Programs
Karate NSW schools offer a 12 Step Black Belt program that when followed guarantees that each student will achieve a Black Belt along with the level of personal excellence that is often associated with the rank. Children particularly benefit from the Kids Karate classes. Our 12 step Black Belt program teaches children the values of perseverance and commitment, enabling them to recognise that they can achieve their goals when they are broken down into smaller pieces.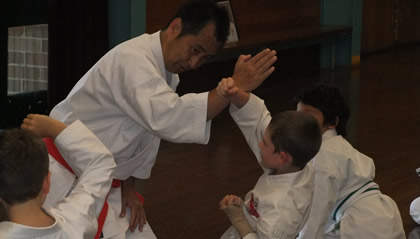 Karate Dragons Program
This specialist program has been designed for children 4-7 years of age. The program covers 6 focus areas: Gross-Motor Skills, Flexibility, Coordination, Strength, Balance and Fitness.
Students meet other kids in a friendly, safe and fun learning environment. Social skills are developed as students work through the 7 grades. A great start to karate training!
Karate Kids Program
Children 8 years to 12 years of age participate in a genuine karate program covering all aspects of the art. They meet other students, develop real skill and develop their characters in a safe, challenging and motivating way. The KARATE WAY!
---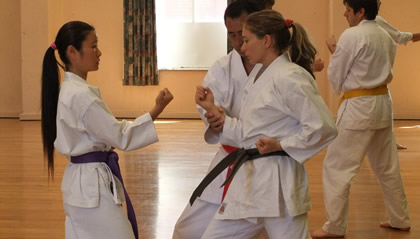 Teenagers/Adults Program
Teenagers and Adults cover all aspects of karate training including, flexibility, strength, coordination, fitness, meditation, breathing, forms, self defense, sparring, and bag work. This is a great way to promote a healthy lifestyle and learn life changing skills along the way.
Sports Karate
Sports Karate is an excellent way for participants to test their karate skills in a safe and competitive environment. This aspect of karate is very popular with the younger members of the school and a number of tournaments are organsied on a yearly basis for members to participate in. Protective equipment is required by all participants. This is a fantastic way of getting fit and meeting new people.
---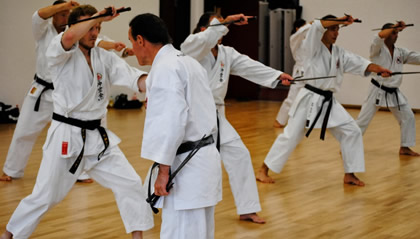 Traditional Weapons Class (KOBUDO)
At the Chitoryu Karatedo School we offer tuition in a number of traditional weapons including the Bo (6ft Staff) and the Sai. A complete curriculum is offered to students as they learn to use these ancient weapons with control, efficiency and precision.
Tournaments
There are numerous Chito-ryu Karate tournaments throughout the year which the students may participate in. These include local, state and national tournaments which may be held in and by New South Wales or Queensland dojos. These are not compulsory, however, we do encourage students to participate in these to have fun, meet students from other dojos, as well as test their skills and abilities.
---